Welcome Fall Guys Club: the best website about this addictive battle royale, which has come to dethrone other video games like Fortnite or Valorant. Here you'll find gameplays, guides, tricks, skins, information and tips on rounds (maps), Fall Guys products, and we'll also show you how to download and install Fall Guys on PS4 and PC.
You can't wait to play The Fall Guys Ultimate Knockout and you know it!
Well, this is it. Today you're going to install this amazing multiplayer video game. Stay tuned and we'll show you how to download Fall Guys for PC or PS4.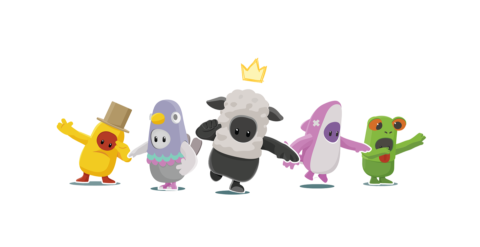 To download Fall Guys on your Play, just follow these simple steps:
1. Access the PlayStation Store from your console and search for the game.
2. You can download Fall Guys from there and it's yours forever.
The Fall Guys free download offer as a PlayStation Plus subscriber has expired.
There is no free and legal option to download Fall Guys for PC. You can get it on Steam.
1. Login to your Steam account and search for the game Fall Guys.
2. Add the game to your cart and complete the checkout process.
If you want to get it cheaper, you can also buy Fall Guys on sale at Instant Gaming.
If you are a PC player, we recommend that you acquire the game legally. Downloading Fall Guys from Mega, Mediafire, Torrent or similar will give you problems: the game will stop working at any time and will leave you halfway there. Plus, it's cheap and cool. It's worth it!
With several million downloads, Fall Guys: Ultimate Knockout is without a doubt the hottest video game: it's become a trend both in Twitch and among YouTube gamers, such as Rubius, Ibai, Willyrex and company.
No wonder, this battle royale indie is so much fun!
Unlike other online games with the format all against all, as some of the shooter type, here you will not find violence, beyond some grabbing and pushing. Fall Guys is a massively multiplayer game in which up to 60 players compete at once. Each phase or round is a different challenge in which the last ones will be eliminated and the rest will continue competing in the following tests.
At the end of the game, after several elimination rounds, only one can remain: the winner.
You will have to run, overcome many obstacles and overcome all kinds of strange and fun challenges. The mini-games you can find in Fall Guys are really refreshing. In addition, another advantage of this party game is that you won't have to wait to play again after being disqualified on a screen, but you'll be able to join another game right away, where you'll have to deal with other opponents.
A complete game lasts about 15 minutes, but you will spend hours without being able to quit 🙂
Supported platforms and devices
Although Fall Guys is a multiplatform game, it is not available for all platforms.
If you want to play it on your PC, you'll have to do it under Windows 10, since the rest of the operating systems, such as Linux and Mac, are not supported. You can download Fall Guys from Steam.
What consoles are Fall Guys available for? At the moment, for Sony's PlayStation 4. Many players are wondering why there isn't a version of Fall Guys for Nintendo Switch or Xbox One. The answer from its creators, the company Mediatonic, is that they are concentrating on development under Steam and PS4. However, in light of their success, we don't lose hope that it will eventually reach the rest of the game consoles.
And what about Android and iOS? Is there an apk? Wouldn't it be cool to be able to have a few laughs making our way among rivals, in the middle of a pitched battle, while we wait for the bus to arrive, or that "late" friend who is always late? Any time is good and the smartphone is always at hand to play a game. While nothing is 100% certain, there is some good news: A company called Bilibili has acquired the rights to create a cell phone and tablet version of Fall Guys. This one will be released in China, but we're sure that it won't be long before a Fall Guys for cell phones arrives to the rest of the world.
Being a multiplatform, you might be asking yourself: Is it crossplay? I mean, are you going to be able to take on gamers from other platforms online? We don't know if this will change in the future, since its success can motivate future changes and improvements, but right now it's not.
In the purest style of Yellow Humor (Takeshi's Castle), Grand Prix or Wipeout, Fall Guys is an online multiplayer game in which up to 60 users face off at the same time in various tests of the most original and fun. You're going to laugh a lot, we warn you. If laughter prolongs life, this battle royale will be your elixir of eternal youth.
In each round you'll have to pass a series of tests such as getting there first, trying not to fall off a moving platform, jumping through hoops and all sorts of minigames where your opponents will try to do better than you. The last ones to complete the circuit will be eliminated and the rest will qualify for the next level, where they will face the remaining opponents. Note: Grabbing and pushing are worthwhile.
But, if you are disqualified from a game, don't worry: you can immediately enter another one.
There can only be one winner of the game and this will be rewarded with some virtual coins called crowns. But not only can you get crowns, but, as you overcome certain challenges, you will be given kudos. So, little by little you will be able to level up, as you go through the rounds.
The game begins with 60 players who will face each other in a knockout system:
First round: 15 players are disqualified.
Second round: 18 players are disqualified
Third round: 9 players are disqualified
Fourth round: 8 players are disqualified.
Fifth round: The winner is decided.
Fall Guys has four different game modes:
Race: the first round is usually this type of race, which consists of running as much as you can, going through all sorts of obstacles until you reach the finish line. The last ones will be eliminated.
Survival: here the law of the strongest (or most skilled, rather) applies. In some rounds of this type, only those who are still standing before a certain amount of time has elapsed will be classified; in others, the screen will end when a certain number of players fall. The remaining players will move on to the next phase. The other users will try to eliminate you and you should do the same.
Teams: the players will be divided into two or three teams that will have to apply a cooperation strategy in order to continue in the game and move on to the next scenario.
Final: similar to the race and survival rounds, you will have to fight for the final victory. Of the 10 users left standing, only one can take the final victory and win the game. To be crowned, you will have to be the first one to reach and grab the crown.
You can get more info by accessing our section maps and rounds of Fall Guys.
The characters in Fall Guys Ultimate Knockout are a kind of jelly bean that looks like they came out of a Nickelodeon cartoon. They are similar to the ones in Among Us.
You can customize the look of these characters, there are many different skins. Some of them can only be unlocked after winning crowns, others will cost you a few kudos.
If you want more information, access to our section skins and characters.
If you want to become a crowns-winning machine, check out our 
game guides
.
What is the price of Fall Guys?
If you're wondering how much Fall Guys costs for PS4 or Steam, or how much money it's worth in Spain, Peru, Mexico, Colombia, or any other country, the answer is always "around 20 euros" (or twenty dollars, depending on your geographic area). Regardless of where you live or what platform you want to buy it for, it always costs around that much.
During its launch, it was possible to download Fall Guys for free if you subscribed to PlayStation Plus, but unfortunately this promotion has now ended.
How to download Fall Guys free?
As we mentioned earlier, there was a release offer that allowed you to download Fall Guys for free as long as you subscribe to PlayStation Plus. That promotion is now over, so if you haven't purchased it yet, you'll have no choice but to buy it. The same goes for downloading Fall Guys for Steam. But don't worry, the good news is that it's very cheap and will offer you countless hours of fun in return.
And if you're thinking of downloading Pirate Fall Guys, we have some bad news for you: As it's an online multiplayer, every time a new pirated version comes out, it stops working right away. So don't waste your valuable time. We recommend that you purchase it legally.
Is it possible to download a Fall Guys demo?
As of today, there is no demo version of this game.
What age is this battle royale for?
For all audiences.
It is classified as PEGI 3, which means that it does not contain any images or sounds that could scare children. In games with this classification, a very mild form of violence is acceptable in a comic context or in a children's environment. And that's precisely the case with Fall Guys, where you're not going to see violence, beyond grabbing and pushing and some funny falls. It's a game for all ages, and it's tremendously fun for everyone. Perfect to play alone, with friends or family, and have a few laughs.
How many players does Fall Guys have?
If you mean how many people can share a single game, the figure is 60 users. This is one of its strengths: the game becomes a madness of epic proportions.
If you're wondering how many downloads Fall Guys has (or, put another way, how many people are playing around the world), it's already over ten million!
How to play offline or locally?
As it was conceived to be played online, it cannot be played locally. Neither can you play alone against machine-controlled bots, nor in split-screen multiplayer mode.
It is logical: if you removed the massive multiplayer component, it would lose the grace.
However, what you can do is play with your friends, sharing the same game. How many friends can you play with in Fall Guys? With two, three or even four. And the game is going to put you always in the same game, together with other fifty-something rivals. Also, in the team rounds, it will put you in the same team.
How many maps does Fall Guys have?
In total there are 30 fun tests or levels: 25 from the first season and 5 from the second.
The levels of the second season (season 2) are "knight fever", "wall guys", "big fans", "hoopsie legends" and "egg siege".
Detailed information can be found in our Fall Guys mini-game section.
How do you put Fall Guys in Spanish?
In both the console and the computer, the game is automatically displayed in the language in which you have configured your device. If you are not in Spanish, you must exit the game and change the language of your console or PC to Spanish.
How to grab and push your opponents?
The procedure itself is very easy, although in practice it is not so simple. When you have an opponent close by, press the grab key and throw him in the direction you want. The first few times you may not get it right, but practice makes perfect.
And what is the grab key or button? That depends on the platform. For example, on the PlayStation 4 it's the R2 button and in the case of the PC, the shift key.
How to get crowns and kudos?
The only way to get crowns is by winning games, there is no other way. But you can get kudos in two different ways: by participating (without having to win the game, you can get kudos for free) or by buying them (micro transactions).
Where can I buy Fall Guys products?
IGN has given it a score of 8 out of 10 and has highlighted the design of its mini games and the color combination chosen. For its part, 3DJuegos has given it a 7 out of 10, exactly the same score as Gamespot, whose critics have placed special emphasis on the "charming presentation and accessible mechanics" that this game has, aspects that make it the "most welcoming battle royale yet". Metacritic, a reference in videogame reviews and critics, gives it an 80 out of 100. GamesRadar is the one who gives it the best grade in its review, rating it with a 4.5 out of 5. The social dynamics of the game, like grabbing and pushing others, and how addictive it is, are the qualities that the latter highlights over The Fall Guys: Ultimate Knockout.
We won't go into too much detail here, as we believe we have already analyzed it and have made our devotion to the game more than clear. There's a reason we're the Fall Guys Club. But our opinion about Fall Guys is that, while its 3D graphics are not the most cutting-edge on the market, it's one of the most fun and addictive games we've been lucky enough to play. And for us as gamers, that's the most important thing in a video game. That's why we forgive his imperfections, as they are forgiven to a genius who stands out in something, and we give him a 5 out of 5.
Because we play for fun.